2022 සිංහල හා හින්දු අළුත් අවුරුදු සමය තුල දුම්රිය ධාවනය කිරීම
2022 වර්ෂයේ සිංහල හා හින්දු අළුත් අවුරුදු සමය වෙනුවෙන් මගීන්ගේ ගමන් පහසුව තකා දුම්රිය දෙපාර්තමේන්තුව විසින් 2022.04.08 දින සිට 2022.04.18 වන දින දක්වා දුර ගමන් සේවා සහ විශේෂ දුම්රිය ධාවනය කිරීමට කටයුතු සැලසුම් කර තිබේ.
Web application for advance on-line seat reservation
දුම්රිය දෙපාර්තමේන්තුව හා මොබිටෙල් ආයතනය ඒකාබද්ධව හදුන්වාදෙනු ලබන දුම්රිය ආසන වෙන්කිරීමේ Web යෙදවුමට පහත සබැඳියෙන් පිවිසෙන්න.
இலங்கை புகையிரத் திணைக்களம் மற்றும் மொபிடெல் ஆகியன இணைந்து பயணிகளுக்கான ஆசன முற்பதிவு செய்வதற்காக நிகழ்நிலை இணைய வழியூடாக  விண்ணப்பிக்கும் முறைமையினை அறிமுகப்படுத்தியுள்ளன. ஆசன முற்பதிவுகளிற்கு கீழே உள்ள இணைப்பினை அணுகவும்.
Department of Railways and SLT-MOBITEL have been introduced a Web application for train seat reservation to the passengers. Click here for Web link.
https://seatreservation.railway.gov.lk
Launching Ceremony
Upgrading of Railway Line from Maho to Omanthai
Overall Objective:
To enhance the track condition of Northern Line from Maho to Omanthai in order to facilitate the safe, efficient and comfortable transportation for the passengers and freight transportation.
The details of the above work is given below;
Client:

Sri Lanka Railways
Consultant:

Central Engineering Consultancy Bureau (CECB)
Contractor:

Ircon international Ltd. (India)
Contractor value:

USD 91.27 million
The existing track conditions in the above project area.
Sri Devie Intercity Express Train
Sri Devie (ஶ்ரீதேவி) Intercity Express train runs daily between Colombo Fort to Kankesanthurai railway station and its service from 5th September, 2019. This Intercity train scheduled to begin its journey at 15:55 in the evening every day from Colombo Fort railway station and scheduled to reach the destination at 22:21 at the same day.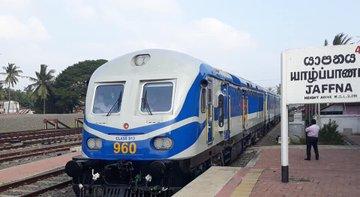 Its start journey on every morning at 03:45 from Kankesanthurai railway station and the express train will reach to Colombo Fort at 10:24 (in 6 hours and 39 min).
The Station wise Arrival and Stop Time of the Sri Devie Intercity train for both ways are given below.
Page 1 of 3